Located at the Western end of Singapore's Central Catchment Nature Reserve, Chestnut Nature Park has a natural waterfall and 2 hiking trails within for visitors!
Chestnut Nature Park Singapore Overview
On the eastern end of Chestnut Avenue is Chestnut Nature Park. The nature park skirts the Central Catchment Natural Reserve of Singapore, acting as a natural barrier for it.
Chestnut Nature Park is divided into two sections: Chestnut Nature Park (South) and Chestnut Nature Park (North). Around 64 hectares large and inaugurated on February 25, 2017, is Chestnut Nature Park (North). Chestnut Nature Park is currently Singapore's largest nature park at 81 hectares after the southern section's opening in April 2016.
Chestnut Nature Park has been planted with local tree species as part of the ongoing habitat development program to support NParks' biodiversity conservation efforts. Examples of these indigenous tree species are the Jelutong, Singapore Walking-Stick Palm, and Braided Chestnut (Castanopsis inermis) (Dyera costulata). By increasing the ecological connectedness between green places so that animals can move about safely, these native tree species within Chestnut Nature Park will also promote overall animal well-being.
Visitors to Chestnut Nature Park can enjoy a variety of leisure activities like hiking, mountain biking, and bird viewing because it is a shared communal place for many park users in Singapore. Chestnut Nature Park is also the first nature park in Singapore with separate mountain biking and hiking pathways.
In addition, Chestnut Nature Park offers amenities like restrooms, informational map, shelters, pavilions, and mountain biking and hiking routes. Also, park visitors can visit a shop where they can get pre-packaged refreshments and rent and wash bikes.
There also used to be a off-trail path to see a fallen tree at Chestnut Nature Park, but due to the relatively unsafe route leading towards it, NParks has decided to seal off the path leading to the fallen tree.
Chestnut Nature Park map
There are 2 maps for this park, one showing the Northern loop while the other shows the Southern loop at Chestnut Nature Park.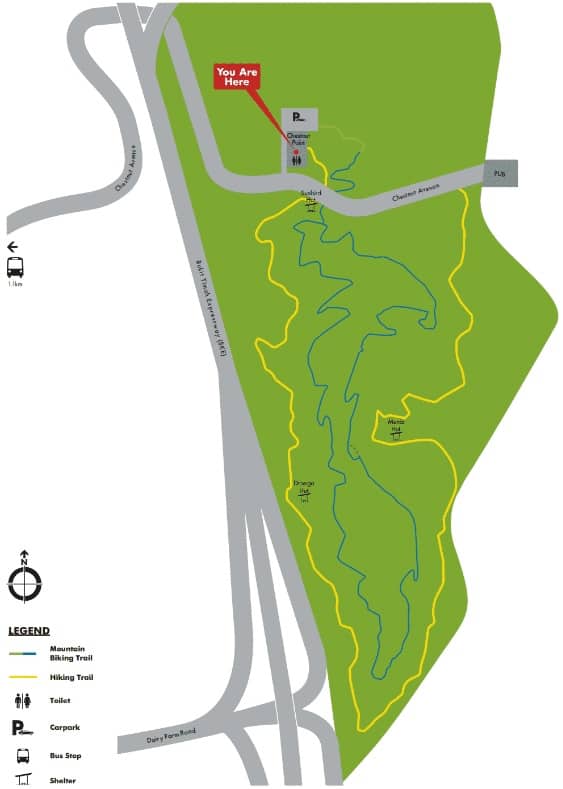 Activities to do in Chestnut Nature Park
There are several different activities you can be doing at Chestnut Nature Park.
Check out the Chestnut Nature Park waterfall
There is a nice natural waterfall and stream located at the nature Trail, which can be found by hiking towards Leea Hut, and past that until you reach Cyathea Hut.
Northern hiking trail
If you want to hike, just know that Chestnut Nature Park's Northern trail is not a loop. This means that if you hike here, you will not end up at the same spot. So make sure to account for this before hiking. The Northern Trail is roughly 1.5 to 2km in length. The Northern hiking trail is easier.
Southern hiking trail
Chestnut Nature Park's Southern loop is approximately 2.1km and the path is a lot rockier and also steeper in gradients.
Visit the Chestnut Nature Park observation tower
Situated at the Northern part of Chestnut Nature Park, there is an observation tower for visitors.
Bike rental at Chestnut Nature Park and cycle
If you want to cycle but do not have a bicycle, there is a bike rental shop at Chestnut Point. There is a 8.2km long mountain biking trail, with different levels of difficulties within ranging from easy, moderately difficult, very difficult and extremely difficult.
Use the Chestnut pump track
A pump track is a specific kind of mountain biking training area that has banked corners and other features that riders can navigate by "pumping," or jerking their bodies up and down. Riders of all ability levels can practice and improve their techniques at Chestnut Pump Track in a safe setting. The pump track has four distinct sections: one easy area, two middle regions, and a fast bowl that can be used alone or in combination as desired. The pump track is best experienced on a hard-tail mountain bike designed for jumping. When using the pump track, appropriate safety equipment, including a helmet, is required.
Use the Chestnut bike park
Mountain bikers with some experience can use Chestnut Bike Park to hone their skills and practice maneuvers for challenging obstacles like drop-offs and jumps. It comprises of a skills area and four increasing skill lines. The best way to experience the bike park is on a full suspension mountain bike.
How to go to Chestnut Nature Park
There is a car park with free parking here, but the lots are relatively limited. The carpark is situated near the eastern end of Chestnut Avenue.